Ethel Carrick's 'French Flower Market, 1909.
There have been thousands of opinions expressed about art but I like this quote by John Updike, American writer and Art Critic...
What art offers is space - a certain breathing room for the spirit.
Chantal taking in the space of the outside area.
And so with a need to breathe, just for a few hours, we made our way to the Art Gallery in Brisbane.
The exhibition was titled, Art, Love and Life, the works of Ethel Carrick and E. Phillips Fox. What a gifted couple, studying at the Paris and London Academies, mixing with the impressionists, what a bohemian life, living in Paris at the turn of the 19th Century, painting the market and beach scenes, the flowers, the children, traveling around Europe, they had marriage, love, art, adventure and space for the spirit....but only for ten years, when sadly and to soon Emanuel passed away at age 50.
In summer the tree on the right is abundant with frangipanis.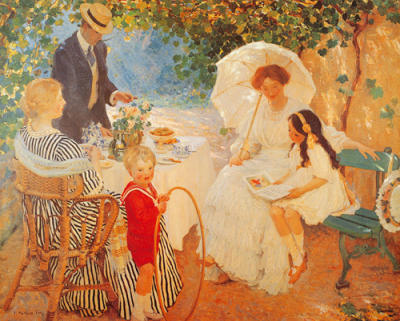 The Arbour. E Phillips Fox. The little boy in the sailor suit, Len Fox, was his nephew, well known Australian Journalist, Artist and social activist who lived in Kings Cross with his wife for 50 years.


I loved the furniture exhibits, Chantal loved the sculpture gallery and Alexandria loves, loves the masters.
When our senses had had a little polish and our need to paint was at it's peak we sought out the shop for my little passion...bookmarks. The shop has jewellery, books, stationary, cute things, ceramics and glassware, fragile and delicate, the purest of colour, truly objects to be admired if not used.
Lunch in the cafe.
I don't know if any other teenagers do this but whenever we are out, at lunch, sitting quietly, the girls make up stories about people who walk past, a serious looking young man in dark jeans, dark bomber jacket and thick grey scarf was to Alexandria a highly intelligent Romanian orphan who teaches the violin and who seeks out art to satisfy his love for it, inherited from his grandfather,who was a famous portrait painter, a 50-something couple in stylish clothes were to Chantal fashion designers from Copenhagen, she an ex-model, who live in a minimalist apartment, here in Australian to arrange an exhibition of their innovative designs at the gallery and possibly to purchase some property...etc, etc. Imagination is a great thing!
...then home to the paints...we had a good time.
Thanks for visiting
Vickixx